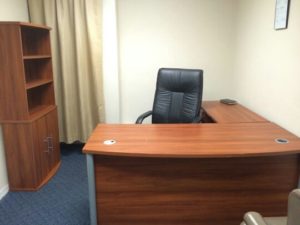 Between our two Orlando area properties, we are able to provide a wide variety of office rental solutions to accommodate any budget. Call us today to discuss your needs. 407-677-3149
What is an Office Center/Executive Suite? We provide smaller, individual offices and suites for rent on a shorter term than conventional office space. The monthly rent includes all basic office utilities, access to conference rooms, common shared reception area, 24/7 access, and a friendly receptionist to greet your clients, receive your mail, and sign for your packages. Other services are available a la carte.
What types of suites are available? We offer single and multi-room suites. Offices sizes start at 100 sq. ft. Window and interior options are available.
What is the commitment? You can opt for a month to month contract for maximum flexibility, or take advantage of rental discounts on longer terms. Hourly and daily rentals are also available with a Virtual Office program.
Our focus is local, small businesses. If you are just starting your business, outgrowing your kitchen table, or needing to upgrade or downsize, we have a solution for you.
What are the benefits of office rental in an Office Business Center? 
The major benefits of choosing an Office Business Center or Executive Suite are as follows:
Turnkey solution
No long term obligation
Immediate expansion or downsize
No long term lease liability

No significant capital outlay
Cost savings
No administrative burden
On-site management